EXHIBITIONS 2023
ROME
Amanda, as one of the worlds leading watercolourists, has been invited to exhibit at this prestigious watercolour exhibition in Rome. Click here to view her work.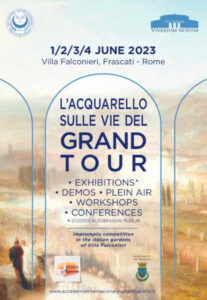 v



RED HILL GALLERY QLD.
Opens 14th July 2023. This solo exhibition by Amanda exhibits a range of oil and watercolour paintings covering a wide range of subject matter. Click here for a preview.
GIANT MINIATURE EXHIBITION

Upon invitation from the National Trust of Victoria the TMPS is being featured at this exhibition at Como House from 5th May to 23rd July.
Click here to view my miniatures for more information.
TWENTY MELBOURNE PAINTERS SOCIETY Inc
The TMPS Annual Exhibition will be held from 17th August – 3rd September 2023 at the Glen Eira City Council Gallery, Caulfield, Victoria.
Below is your invitation, please click on it to view the four pages containing information about the exhibition.