PRIZES:
(1) I recently won the 1st prize for best Watercolour at St Kevin's Art Show, May 2016. The works were judged by Sophie Ullin from Leonard Joel Auctions.
The winning painting (below) was titled "Life Aquatic" based on my underwater experience as a diver.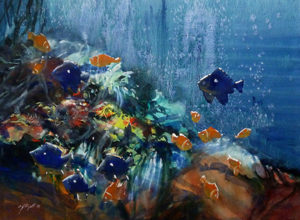 (2) Selected finalist from 110 entries for the Wollongong Contemporary Watercolour Prize, Wollongong Art Gallery  (July – August 2016).
nnnThe selected painting (below) was titled "Varanasi" based on a  recent trip to India.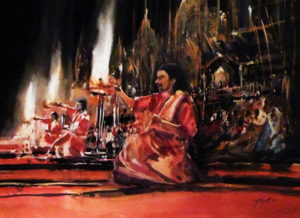 EXHIBITIONS:
(1) "A French Affair".
nnYou are invited to attend my upcoming exhibition at Seaview Gallery, Queenscliff (http://www.seaviewgallery.com.au/).
nnThe exhibition  shows en plein air paintings from my recent Paris and St Malo workshop (Travelrite International).
nnThe exhibition opens on the 8th October at 2pm.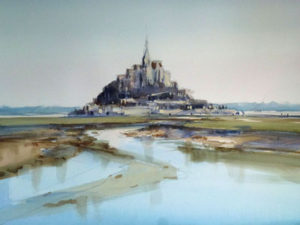 (2) Exhibition in China (October 2016).
nnI have been invited with a select group of Victorian Watercolourists by the Director of the Dalian Exhibition Hall to exhibit in Dalian, China.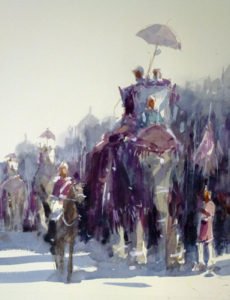 DEMONSTRATIONS:
Once again I recently demonstrated to a full house at the Camberwell Rotary Art Show.

MEDIA:
This book is for watercolour students who are interested in advancing their work by a five step process using (1) better composition, (2) colour harmony, (3) tonal range, (4) magic light and (5) completion. All these elements are required to change a painting into a piece of art which energises the viewer and makes the art memorable. The book contains 12 detailed chapters which include step by step demonstrations, hints, techniques and images.
The book is available as:
(1) a hardback with dust cover from Amazon and
(2) as an eBook from the Apple iBooks Store.